By Apuestas Club/ Clube da Aposta
In sports betting, the Handicap usually generates frequent doubts among players. The market may look complicated, but it's pretty simple to understand. Check it out:
European Handicap
The European Handicap was the first of the two to be created. The main difference between them is that the European is based on three options. They are: Team A, draw and Team B.
The understanding of this Handicap is very smooth, let's use the image below as an example. In this case, in the Handicap (0:1), it is as if the visiting team started with an advantage goal.

In other words, if you bet on Chile (0:1) – also read Chile (-1) -, you will only guess right if the Chilean team wins by two or more goals. If they win by just 1 goal difference, your bet will be lost.
If your bet is on a Draw (0:1) – also read Draw (Chile) -1 -, it will only win if the Chilean team wins by exactly one goal difference.
If your bet is on Brazil (0:1) – read also Brazil (+1) – it will only win if the Brazilian team wins or draws the match. If Brazil loses the match, you lose the bet.
Asian Handicap
The Asian Handicap eliminates the draw market, unlike the European Handicap. You will always have both teams and a particular goal line that will be positive for one team (adding goals) and negative for your opponent (removing goals).
Furthermore, there are several types of lines (0, 0.25, 0.5, 0.75, 1.0, 1.25 etc.) and a good variety of your bet results. Your guess can be: win, 50% win, nil, 50% lost and lost.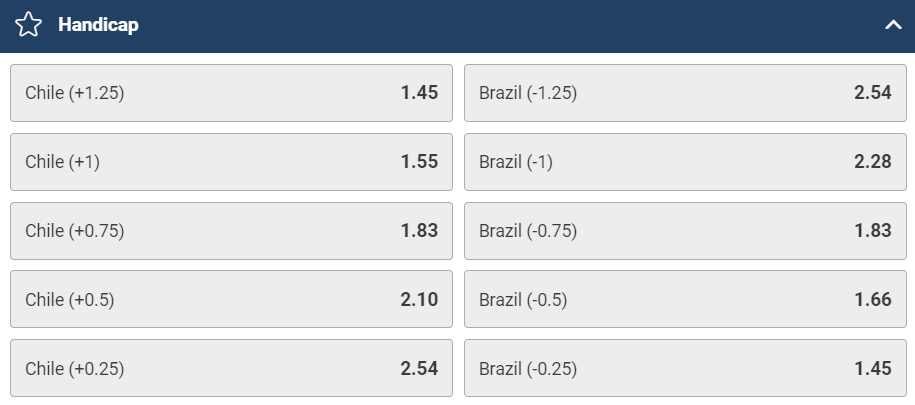 Observation: at Betmotion, the Asian modality has the name Handicap.
IF YOU ARE NOT YET OUR AFFILIATE, DON'T MISS THE OPPORTUNITY: REGISTER HERE.